Why do 600 people from all around the world make a pilgrimage to Malmö, September 26 to 28?  The answer is CleanMed Europe, an international conference with a focus on health care's environmental impact.  With over 600 participants from Europe and all over the world, it has become the largest conference of its kind on this side of the Atlantic.
Since 2001, CleanMed has been organized annually in the USA and this year marks the third time the conference is being held in Europe.  This September Malmö is taking the torch.  Behind the event is the organization Health Care Without Harm Europe in cooperation with Region Skåne, the TEM Foundation and Sustainable Business Hub.  For three days participants from the whole world meet at the Convention Center in Malmö to debate and discuss sustainable health care.  Sustainable health care means establishing goals while working together so that work is performed in a way that minimizes the environmental impact and is conducted so that it is sustainable over the long term.
Sustainable Business Hub is conducting so-called Green Tech visits in conjunction with the conference where participants are given the opportunity to visit and take part in the work of companies involved in environmentally-friendly technology in the region.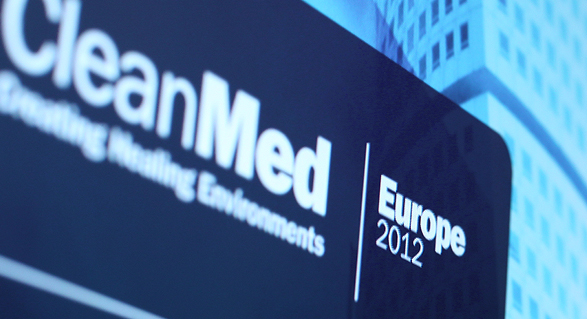 The TEM Foundation has chosen Suscito to create a graphic profile for CleanMed Europe.  The goal was to market the conference in the best possible way to attract sponsors, sales people and last but not least a number of participants.  The guidelines were clear: the language should speak to Europeans, be contemporary and appropriate, and have the same tone and make as serious an impression as the conference itself.
We presented CleanMed Europe's environmental focus with a color scheme in blue, green and graphite grey in combination with white.  The choice of colors was made in combination with a clean font style and precise language evoking the environment, sustainability and professionalism similar to the conference's own image.  With the graphic profile as the starting point we designed the website cleanmedeurope.org and brochures for sponsors and sales people as well as display materials event hosts use themselves to market the conference.