Uppdraget var att formge en halvårsrapport. Resultatet blev en vackert illustrerad och minimalistiskt layoutad trycksak. Inspirerad av det nordiska ljuset.
Cleantech Scandinavia arbetar med att sammanföra investerare med både etablerade och nystartade företag inom miljöteknikområdet. Suscito har designat deras halvårsrapport, "Nordic Dealflow", som presenterar detaljerad statistik och nyckeltal för kapitalinvesteringar i nordiska utvecklingsföretag.
"Nordic Dealflow" är inspirerad av det nordiska ljuset. Den innehåller tydliga diagram och skapar med hjälp av stilrena typsnitt en tydlig överskådlighet. Grundtanken är att förmedla en känsla av Norden, den friska luften och framåtblickande. Men även skapa en tillgänglighet med hjälp av stilren form.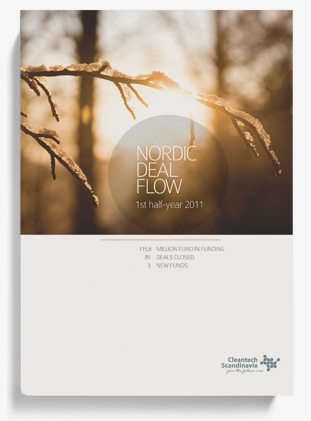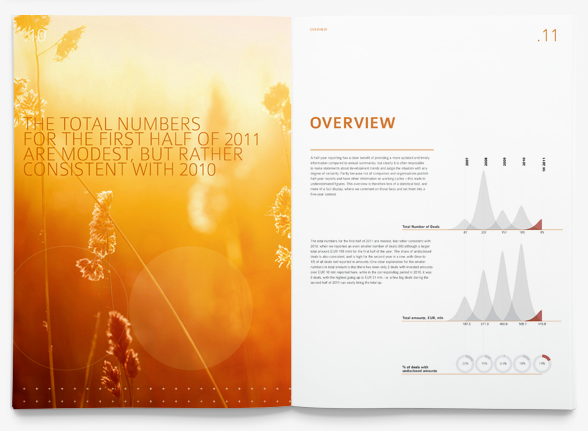 The assignment was to design a half-year report. The result was a beautifully illustrated publication with a minimalistic lay-out, inspired by the northern lights.
Cleantech Scandinavia is working to bring together investors with both established companies and start-ups in environmental technology. Suscito designed their half-year report, "Nordic Deal Flow", which features detailed statistics and key figures for capital investment in Nordic development companies.
"Nordic Deal Flow" is inspired by the northern lights. It includes clear diagrams and uses clean text creating a clear overview. The basic idea is to convey a sense for the Nordic countries, providing a breath of fresh air and looking forward; however, the goal was to make it easy to understand while integrating a stylish presentation.